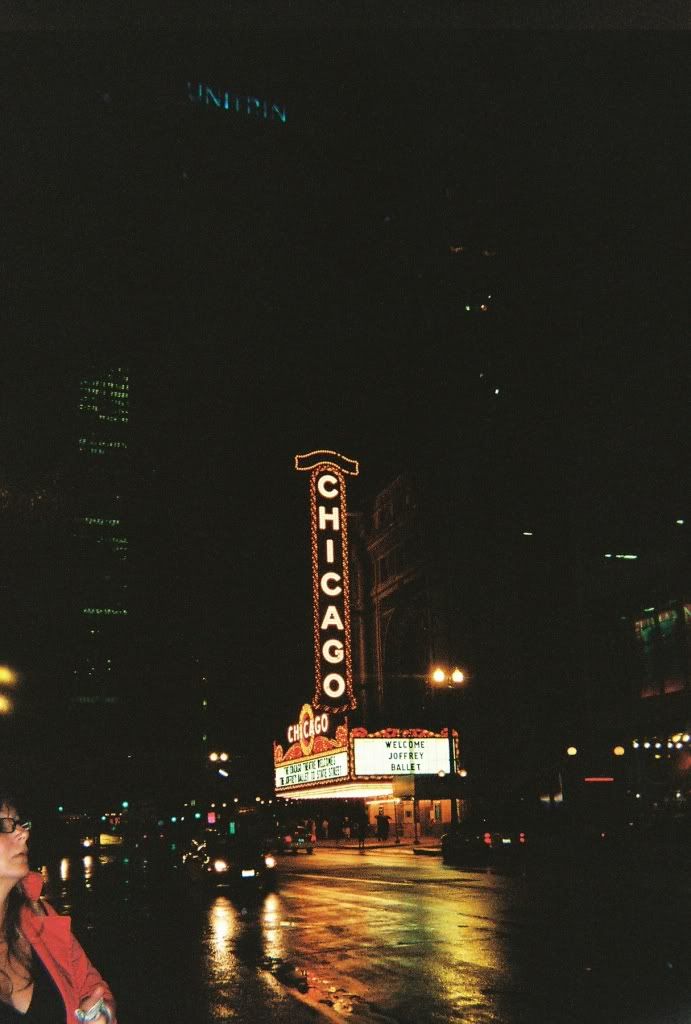 I flew into Chicago Midway thanks to my dad giving me a free ticket on SWA. I was nervous about leaving that weekend because of the likelihood of bad "Ike" weather, but we took off Friday afternoon just as the winds were starting to pick up. Upon landing, I let Alex know I had arrived and he told me he was making loops and to come outside. 20 minutes later, and still no Alex, I called again. He told me he had just driven by and where was I? I told him I was patiently waiting under the sign that said Southwest Airlines. I read other signs around me. Delta...Midway...wait, did you just say Midway?? Apparently there are TWO major airports in Chicago, and one of us was at the wrong one. It is debatable exactly who. So 1 hour and 45 minutes later, Alex makes it to the airport where I am and we are off!
It is raining. It is dark. I am STARVING. Alex is relying wholly on the Garmin GPS navigator. Note to readers: to effectively use a GPS navigator while driving, you must be good at following directions. Let's just say if there was a U-turn to be made in that city (and most of its suburbs), we made it. What was helpful about the Garmin was that we searched for local pizza places (when in Chicago, eat as Chicago-ans (Chicag-ites? Chicans?) do, right?), and soon we were on our way for dinner! Only we got there and it was closed. But right next door is Mama Thai, so we settle for Thai food and head inside. We were tired, hungry, wet, hungry, tired, did I mention hungry and tired? The table tent is advertising Thai beer--Phuket--so our waiter arrives and Alex blurts out "We'll have two f*ck-its and some pot stickers!" The waiter didn't find it nearly as funny as we did. The meal turned out to be the best thai food we've ever had! So if you're ever lost in a suburb of Chicago in the dark while it's raining and you stumble across a thai restaurant next to a closed pizza place, it's definitely worth it.
The next morning dawned to a whole lot more rain. Apparently Ike had decided to spare Austin and follow me up to Chicago, dumping more rain on the windy city than they've seen in 137 years. So glad I was there to witness that. Our original plans of the architectural boat tour were scrapped (all tours canceled for the whole weekend), so we decided to brave the rain and check out Millenium Park and the Mag Mile. (Sorry for the picture quality--these are taken with a throw-away as our digital camera battery charger was left in Texas.)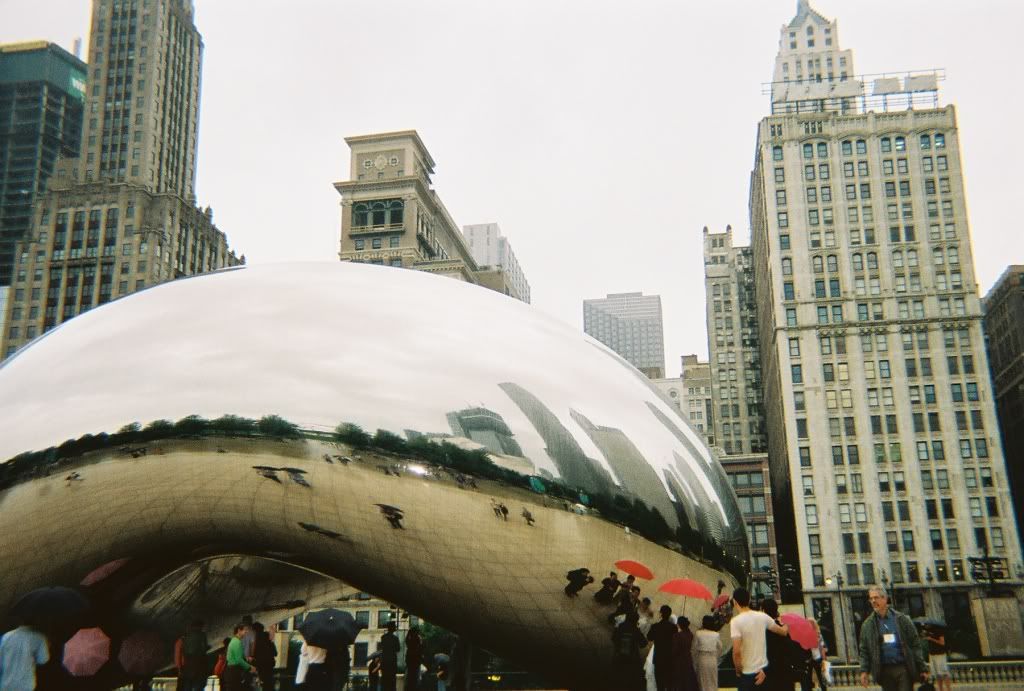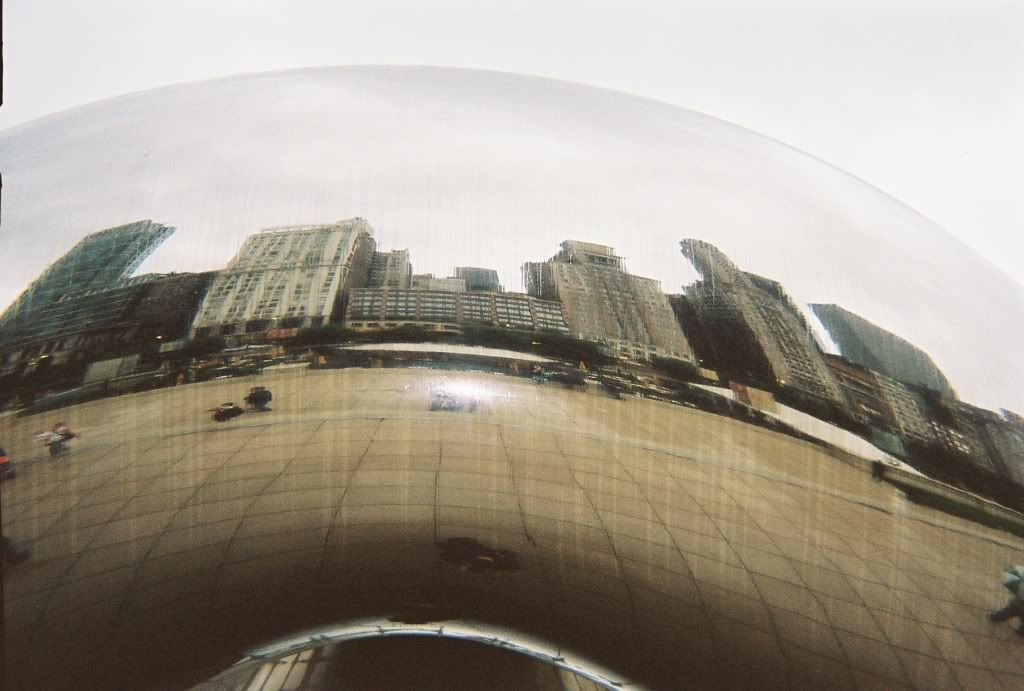 At one point we were so wet from having just one small umbrella between the two of us we stopped into a souvenir store and bought new T-shirts. I opted for my first-ever political shirt. While I haven't worn it around my friends here yet (we don't talk politics much), I'm hoping my candidate wins so that I can wear it for four more years!
Here I am walking on water!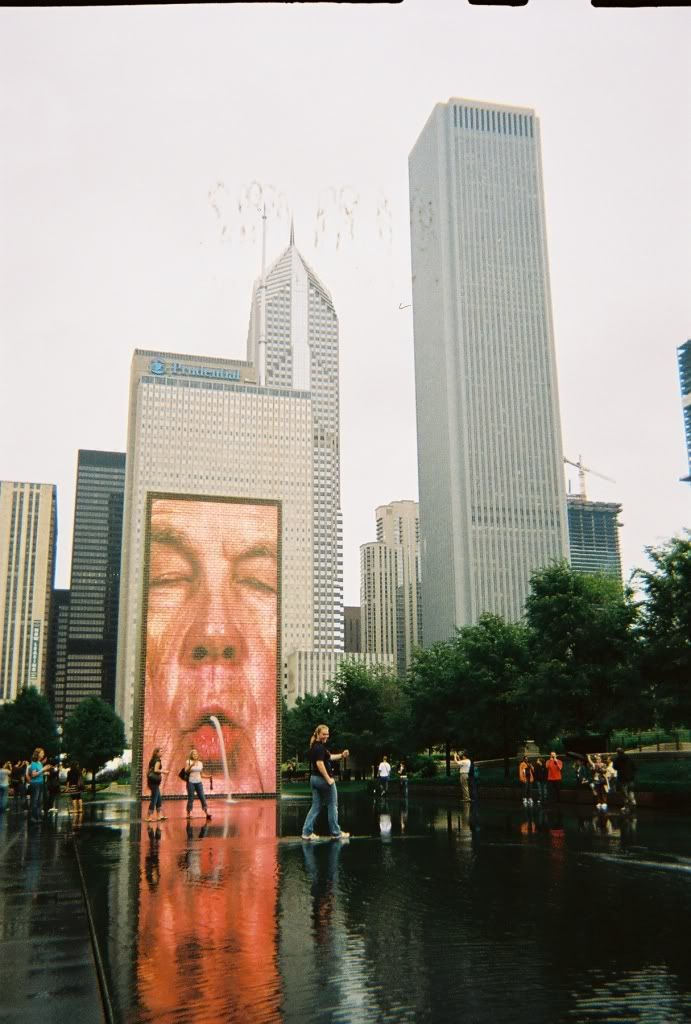 We had a delicious lunch at Pizzeria Due. All the Chicago natives I've spoken with recommended Due over Pizzeria Uno. Apparently, the owner first opened Pizzeria Uno, and it was so successful he opened a second location (Due) across the street. So it's the same menu, same food, etc...just less crowded. Interestingly, he was from Texas and missed Tex-Mex food so much in Chicago that he opened a Tex-Mex restaurant right next to Pizzeria Due!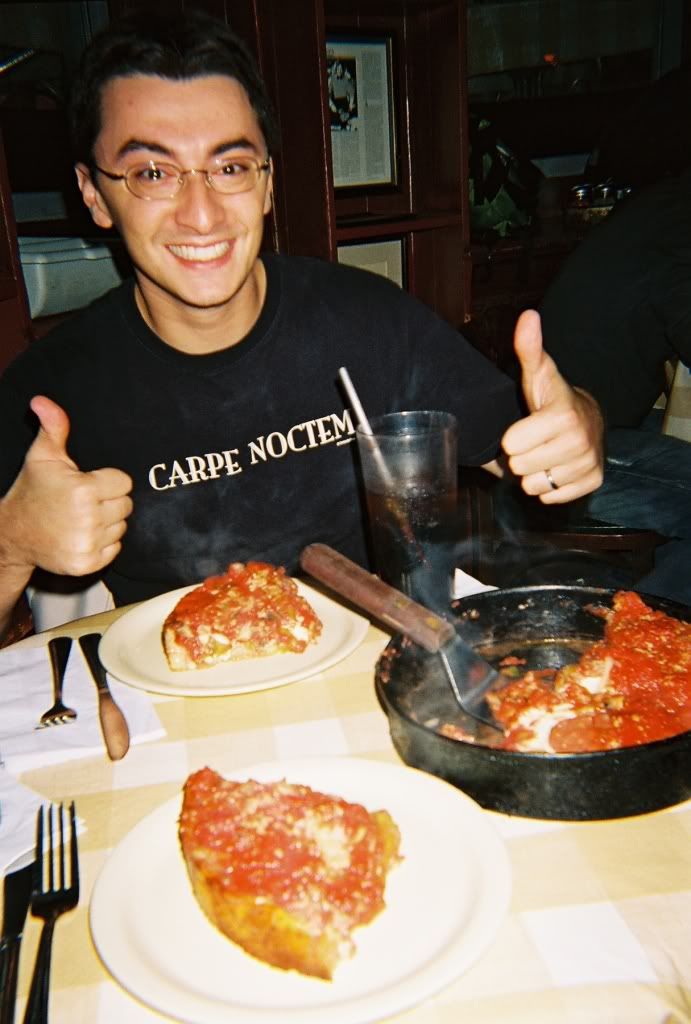 We then spent the afternoon in the Museum of Science and Industry. While it was interesting (especially the robotics exhibit!), it was geared a little more towards kids. We also discovered that Alex would be able to milk a cow faster than I would. It was an exhibit. Seriously. So while it was geared a little more towards kids, we are geared a little more towards kid-like-entertainment, so it was still a good visit.
Saturday night we had a delicious, fancy-schmancy dinner at the Palms restaurant and wondered how to go about getting our pictures up on the wall. We then went to see Wicked at the Oriental Theater! The show was amazing (and totally counts for #81 on my list). I highly recommend it if you ever get the chance to see it. I will never look at the Wizard of Oz in the same way again!
Here we are inside the Oriental Theater lobby: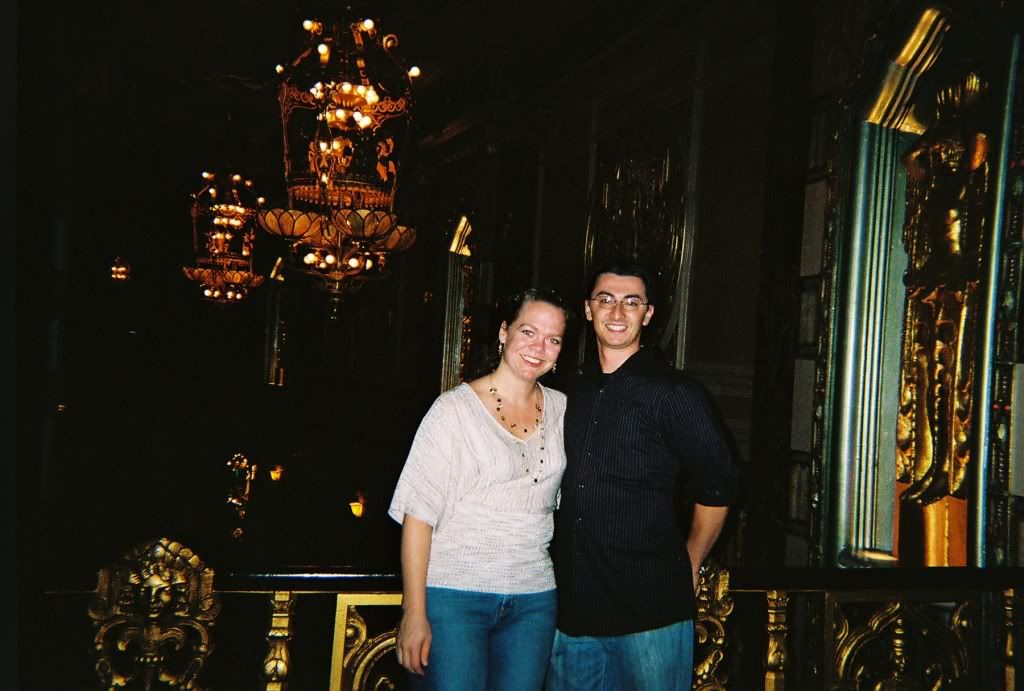 And here we are on our way back to the car. Gotta love iconic signs!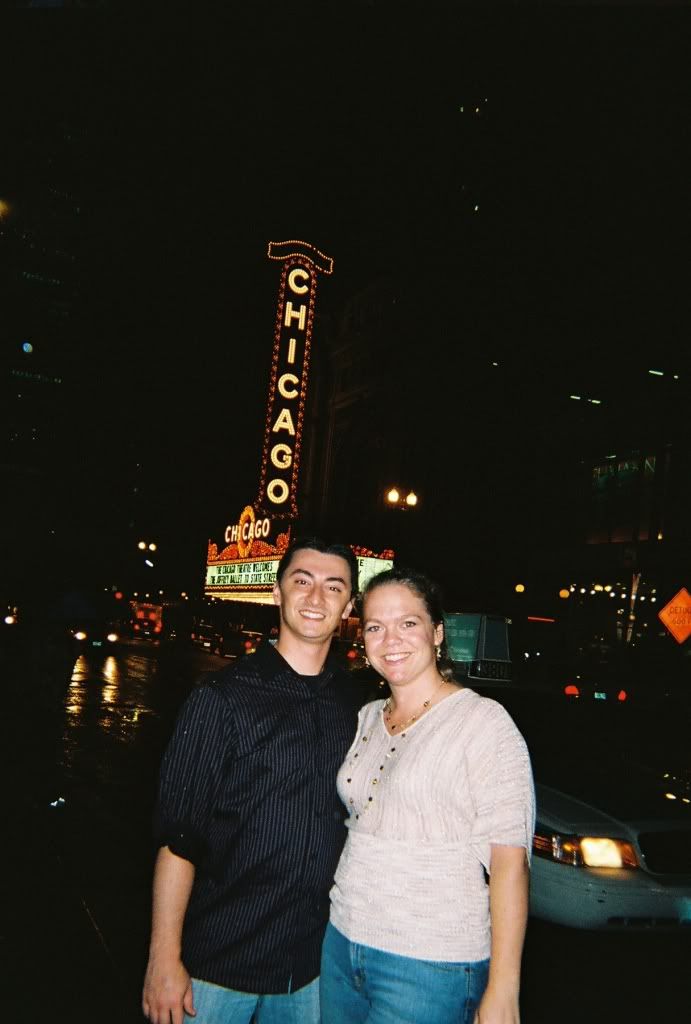 Sunday brought more rain, and lots and lots of wind! I saw more umbrellas broken in the span of 10 minutes than I have in my whole previous life combined. We stayed inside most of the day, taking a scenic drive along Lakeshore Dr. and staring at the waves crashing against the rock walls and the inordinate number of people out running. People, look around you! It's raining AND windy! What are you thinking??
We went up in the John Hancock tower and were able to enjoy two cups of hot chocolate, some chocolate mousse, and the view through breaks in the clouds.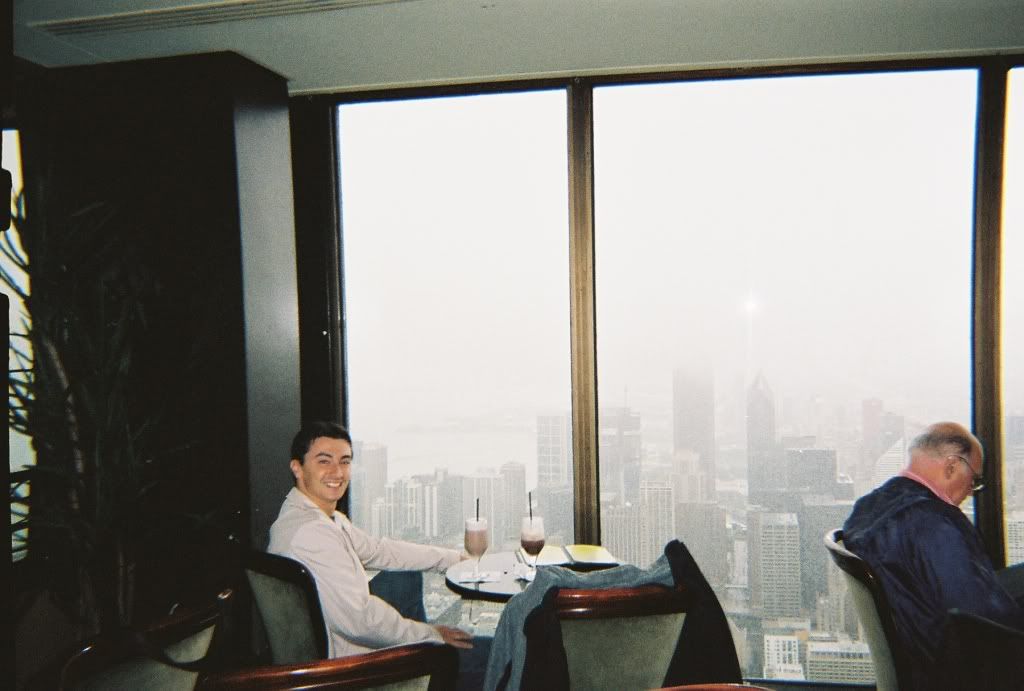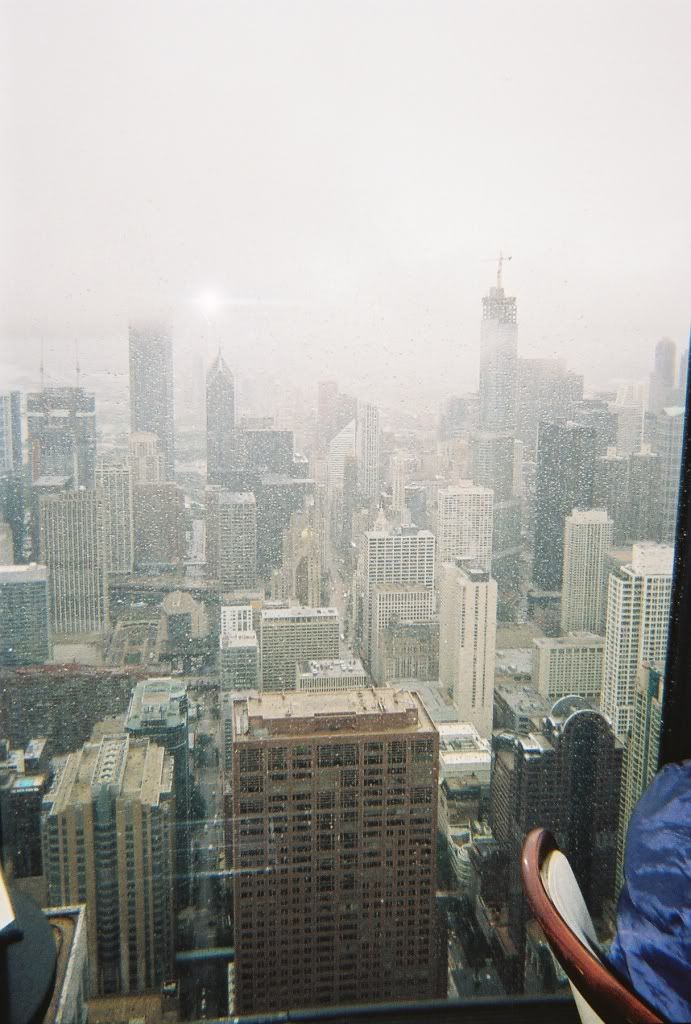 We finished off the afternoon at the Chicago Aquarium (which had a monkey in one of its exhibits...hmm....) before Alex dropped me off at the (right) airport for my evening flight back home. Here we are emerging from the Aquarium, headed for the airport, just when the rains come to an end. Of course.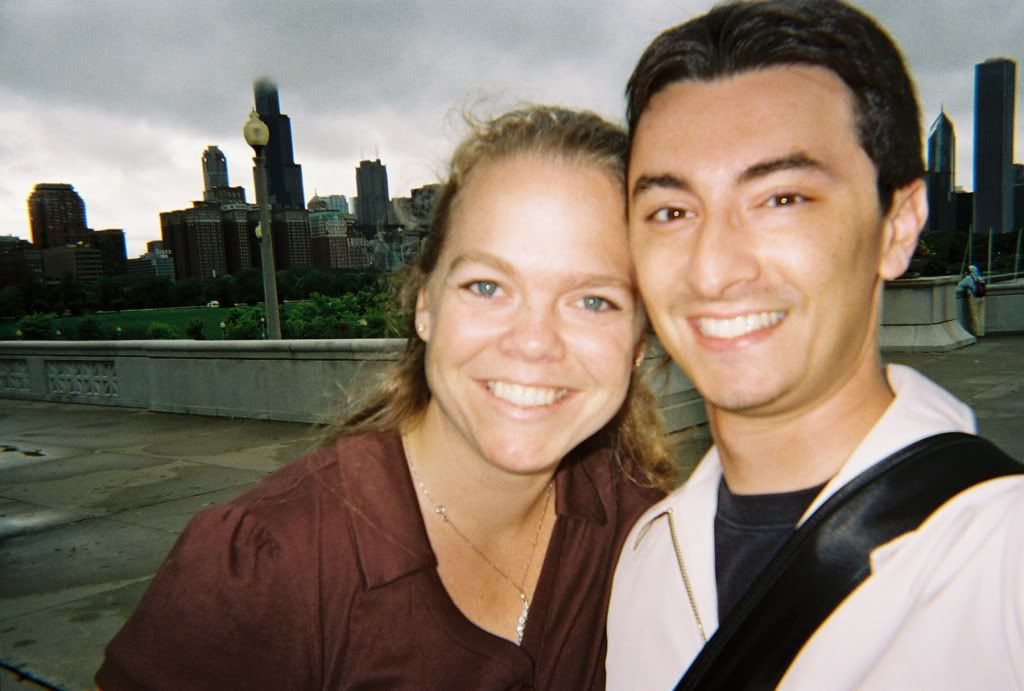 It was the perfect quick trip despite the weather! Chicago is a very cool town. It reminded me of New York City and Austin getting married and having a baby...that baby would be Chicago. It was a the perfect mixture of each and I loved it!
PS--could it be?? Does Route 66 really end in Chicago?? (It's hard to see, but it says END Historic Route 66)